Last Updated on July 11, 2022
Who doesn't want that healthy glowing skin that a hydrating body scrub can offer? Almond oil which is a type of fixed oil or carrier oil can work wonders for your skin. Now when you combine it with sugar, makes it even better. So, let's take a closer look into using almond oil sugar scrub.
If you can't make it to the spa and you need a good body scrub that can productively exfoliate and moisturize your skin then you can easily make a homemade body scrub or face scrub.
It's pretty easy making a scrub that can be tailored for the use of almost all parts of your body which is from head to toe. A homemade scrub can be made with little money and it will please you to know that you may already have the ingredient required at home.
One easy way to make a scrub can be made with almond oil with sugar. This post will be looking into what you need to know about almond oil sugar scrub.
Why Use Sugar Scrub With Almond Oil
Combining sugar with almond oil can serve as a great scrub that your skin can benefit from. Sugar will help soften the skin and help exfoliate and freshen up your skin. It will aid in skin dryness and act as a natural moisturizer.
Then the presence of almonds contains great vitamins and minerals that can help with skin rejuvenation. It is not sticky or heavy. Hence, it is ideal for all skin types. Almond oil will also help in moisturizing your skin. Your skin is also protected from skin radicals with almond oil.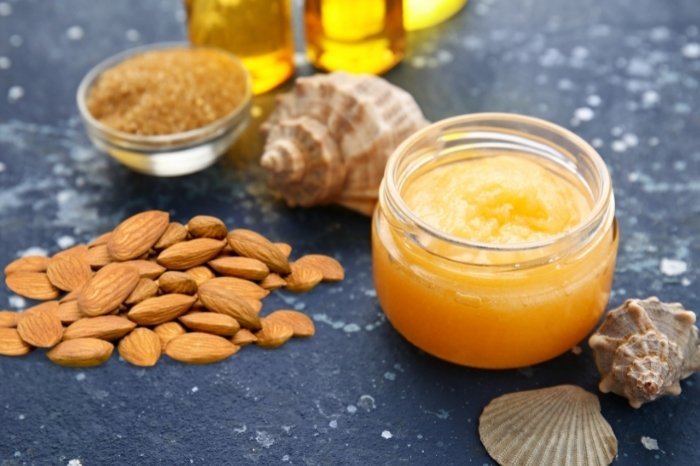 How Do You Make Almond Exfoliating Scrub?
To make your sugar scrub with almond oil, simply get 1 cup of white sugar or brown sugar. Then get half a cup of sweet almond oil.
The addition of essential oil (about 10 drops) can also be beneficial to your scrub. But if you don't have essential oil, then you can go for sugar and almond oil alone. But make sure the essential oil is safe for skin use.
Put your ingredient in a bowl and mix them up till you get consistency. Then the scrub should be poured inside a covered bowl or a jar that has a lid.
Your exfoliating scrub is ready to be used. Massage the scrub mixture onto your face and neck in a circular motion. Use your fingertips to do this for a few minutes. Then allow the scrub to sit on your face for 3 to 5 minutes.
Wash off with water.  This face scrub can be done two times a week. Doing this can help get rid of toxins and give you that natural glow.
This almond oil with sugar scrub can as well be used on the elbow and knees to help lighten dark areas.
Organic Sweet Almond Oil (16 oz) by Sky Organics 100% Pure Cold-Pressed
Is Almond Oil Good For Face Scrub?
Almond oil is good to use for a face scrub. However, it's important you are aware that there are two types of almond oil and it is just one of them that is ideal to be used for a face scrub. So, the two types of almond are:
Sweet almond oil is the appropriate choice for facial skin care. Its beneficial features make it the right choice. It is made from the sweet almond tree (Prunus Amygdalus Dulcis).
This type of almond oil is derived from flavorful edible almonds. Sweet almond oil is rich in olein oil that helps improve the effectiveness of the skin's barrier. This oil is also rich in protein, minerals, and vitamins. These nutrients help in skin rejuvenation, especially facial skin. It also helps with the healing of some skin problems.
This type of almond oil is derived from a different tree (Prunus amygdalus var. Amara). Butter almond oil on the other hand is used as an essential oil because of its strong aroma. It is not ideal to be used in skin care products because it can have harmful or adverse effects.
Side note: Another important thing to note is that the method of extraction of almond oil usually determines its quality. For instance, when the oil is extracted by cold compress in the absence of heat or addition of any chemicals, the nutrients and goodness are retained. Hence, to get an ideal skincare routine, you should go for cold-compress sweet almond oil.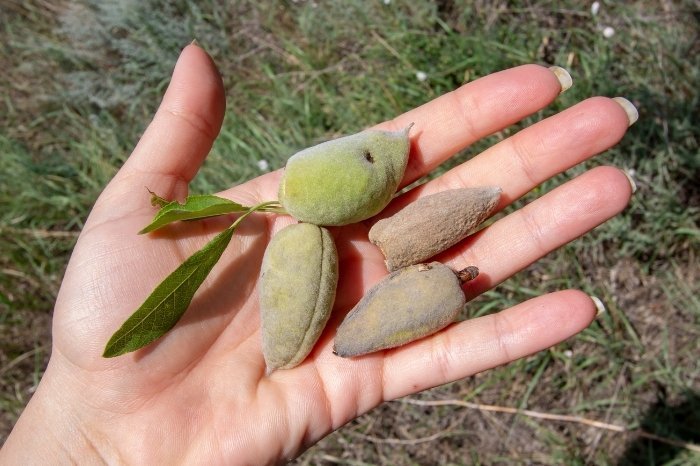 However, if you are allergic to nuts, then you should avoid using almond oil generally.
Almond Oil Benefits On Skin Or Face Use
The application of sweet almond oil to the skin can offer amazing benefits such as:
Skin tone and complexion enhancement: thanks to its moisturizing properties, almond oil can enhance complexion and skin tone.
Minimizes puffiness and under-eye circles: almond oil has an anti-inflammatory feature. Therefore, it may help minimize swelling of the skin.
Help with sun damage: the vitamin E almond oil has can help minimize the damage to the skin done by UV exposure.
May help minimize stretch marks: almond oil may help with reducing as well as preventing stretch marks.
Helps with dry skin: for centuries, almond oil has been used to solve dry skin problems.
Safety Precautions For Using Almond Oil
Although almond oil is generally considered safe to use on your skin; you should however have in mind some safety precautions to using it.
The number one safety precaution is to avoid almond oil on your skin if you are allergic to nuts.
Also, if it's your first time using almond oil, try to do a patch test to see the outcome before you apply it to your entire face. A patch test can be done by dabbing a small amount of almond oil on your skin (e.g. skin or elbow). Wait for a few hours and if you do not notice any itching, redness, or swelling, then almond oil is most likely safe for you.
Conclusion On Almond Oil Sugar Scrub
We have seen the amazing benefits almond oil with sugar scrub can offer our skin. It's even easy to make your homemade exfoliating scrub from almond oil and sugar and we have discussed how you can go about it in this post.