Last Updated on June 21, 2022
Are you looking for a way to learn how to make your DIY honey face wash? Then this is it. Face wash is good for face cleansing. Now when they are made from a natural product like honey, makes it even better.
Honey may feel sticky and uncomfortable to handle especially when it's used on the skin. But trust me; it is an amazing ingredient to use on your skin so far you use them accurately and safely.
Honey can serve as a great face wash and it can also be used in homemade body wash. So, let's look at how we can make a DIY honey face wash and get the benefit it offers.
Why Natural Honey Face Wash Is Good To Use On The Face And Skin
Honey has been used to combat infection and enhance healing for thousands of years. It has been said to contain vitamins and minerals. Additionally, honey offers so many antibacterial, antiviral, as well as anti-inflammatory properties.
Furthermore, honey has an acidic nature that prevents bacteria from thriving. It also releases hydrogen peroxide that kills any bacteria that may be on your skin.
Honey is also fairly good at preserving moisture. It is a natural preservative that can help with anti-aging. The skin's pH can also be regulated when you use honey.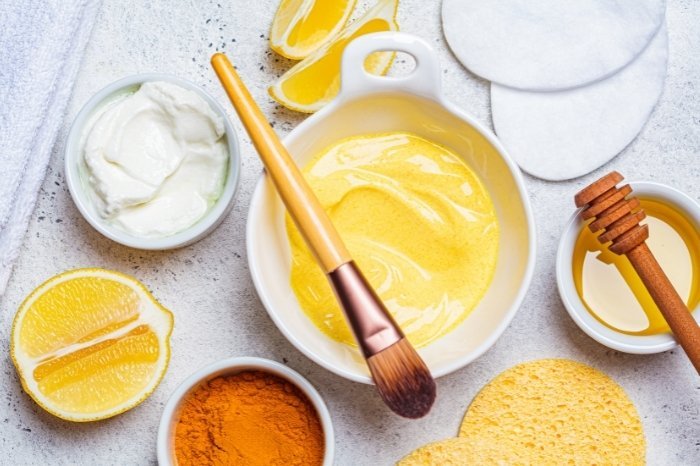 Therefore, we can see how natural honey is an excellent substance to be used on your face or skin.
Fairly all types of skin can honey serve as a gentle and effective cleanser. Be it normal, sensitive, or a combination of this skin type; or you may have dry or oily skin, then going for honey as a face wash may be the right facial cleanser for you.
Click Here to Learn about:
Is Using Raw Honey For Face Wash Ideal?
Making use of raw honey as a face wash is not a bad idea considering the many benefits we stand to gain. When it comes to creating your honey face wash, make sure you are using only raw honey. This means the honey should be raw and unfiltered.
Also, ensure the honey is not be pasteurized. A pasteurized honey involves heat and this can cause some of the antibacterial and probiotic features to be lost during the heating process. We definitely don't want this to happen. We want the bacteria-fighting benefits and other amazing natural enzymes needs to be intact.
Simply making use of raw honey (just one ingredient which is honey) as a face wash will serve as an easier and simpler cleanser. But take note, using this method tends to be stickier and messier. It can also take a little longer to remove. But all in all, the actual benefit of a real cleanser will be enjoyed.
Nature Nate's 100% Pure Organic, Raw & Unfiltered
What Kind Of Honey Do You Use To Wash Your Face?
The ideal type of honey to use for your face wash should be raw and unfiltered honey. As we've mentioned earlier, it should also be non-pasteurized honey.
Read more about What Is Scouring Powder?
Homemade Face Wash: DIY Honey Face Wash
So, when it comes to the DIY honey face wash, it's pretty easy and straightforward to make one. This natural recipe makes a good cleaning face wash agent that will reach deeper into your pores at the same time ensuring all the pores are gotten rid of.
Honey face wash recipe list includes:
A quarter cup of raw honey
A quarter cup of distilled water, coconut water, or you can go for rose water
A teaspoon of avocado
2 tablespoons of castile soap
12 drops of any essential oil you wish to choose
Then 9 ounces of glass jar or bottle
All these ingredients should be mixed together and pour it into a recycled honey bear of an 8-ounce pump bottle. Ensure you do not shake the bottle so you don't end up causing the mixture to start foaming.
So, when you want to make use of the DIY honey face wash you've made, simply pour a little portion into your palm. Then massage the mixture into your face and neck. Make sure you avoid your eye areas.
Then to gently exfoliate your skin, add a pinch of baking soda a few times a week. Go ahead and rinse with warm water after some time.
The honey face wash cleanser you've made should preferably be stored in the refrigerator.
Side note: when you're making the honey face wash mixture, you should be careful so you don't mistakenly inoculate it with bacteria from your hands. External bacteria can also come from the bottle or utensils and this can cause the mixture to spoil. So, take note.
Will The Honey Face Wash Last?
When you make use of distilled water for your honey face wash, it should last you indefinitely. However, if you used coconut water or any other type of water apart from distilled water, then it should last for about a week or two. After this, you may begin to see mold growing.
Check Out a Healthy Alternative To Canola Oil
Can Honey Face Wash Be Used Every day?
It is pretty possible to use your honey face wash every day. This is because honey is a gentle substance.
However, it's possible to notice some changes just like when using most beauty products. Keep your eyes peeled and ensure you aren't getting any irritation or redness.
But if you actually notice any redness or irritation, you should first stop using it for a week. Then you can reduce the use to one to two times weekly.
Can Scars Be Cleared With Honey?
No scientific evidence has been shown that honey can aid with fading of scars. But you can still try it out and see if it works.
However, honey can help speed up the process of wound healing.
Final Say
There are many great benefits to using honey as a face wash. Their antibacterial, antiviral, and anti-inflammatory properties make them perfect to use on our face or skin.
In all this, make sure you are using only raw and unfiltered honey. Avoid using pasteurized honey because the beneficial antibacterial and antiviral properties must have been lost from the process of heating honey even if it is mild heating.
Read more about Permanently Tighten Sagging Breast In 5 Days: Is It Possible?