Last Updated on July 10, 2022
Got a long trip you're packing for that requires your families or any other passengers to tag along in your car? Then you must be prepared for a smooth and beautifully scented journey and making use of essential oils for the car is one way to go about this.
You just got to deal with different bodies and the smell either good or bad. Even the long drive alone can present some sweat and tiring experience as your passengers are packed into the car. Therefore, the use of essential oil can help ward off any unpleasant odor.
Furthermore, apart from using it in a scented air diffuser, you can use essential oils to clean your car and get rid of any unwelcoming smell.
So, let's go into more details about essential oils for cars and how they can be used.
Why The Need For Essential Oils For Your Car
So, what essential oils are good for cars? There is this distinctive odor that is attached to new cars. The new car scent is the result of different chemicals gassing out from a car. The smell is not so safe to inhale particularly if you will be spending a while in your car. This smell can even give you a headache.
There are dozens of chemicals (e.g. flame retardants and lead) contained by an average car that diffuses into the air we breathe. This gas is mostly unhealthy to breathe in and has also been associated with adverse illness, cancer, and even memory loss.
Older cars on the other hand may have less of this gas because the flame retardants have degraded over time. But it may still contain some of this unhealthy gas as well as harmful dust in the air. This is why you need a safe and healthy environment in your car because we spend a good amount of time in cars.
The good news is that there are safe ways to reduce toxic exposure to these chemicals. So, essential oils can aid in purifying the air in your car and keep the interior of your car clean. It can also help minimize bacteria and viruses that may be present on the surface of your car.
Best Essential Oil For Car
Essential oils not only smell amazing, but they also have anti-inflammatory properties. Although regular air fresheners can be used in your car; essential oils for the car will be much better because they offer safer and great health benefits.  A natural fragrance is what essential oil will offer you.
Below are the lists of various essential oils that can be used in your car:
Basil
Cypress
Fir needle
Neroli
Balsam fir
Bergamot
Spruce
Tangerine
Vanilla
Coffee
Geranium
Lime
Cinnamon leaf
Lemon
Lavender
Cliganic USDA Organic Aromatherapy Essential Oils Holiday Gift Set (Top 8)
These are some of the best essential oils you can go for. They are safe to use around children. But you may avoid using it if you are around little babies if you will be traveling far in your car.
Additionally, we recommend you go for specific essential oils that fit your lifestyle. For instance, if you usually go through stress in most of your activities, you should go for oils such as lavender, orange, or lemon for a calming experience.
If you want a better assistant for your immune system, then you should go for oils such as cinnamon, tea tree, and oregano.
If you want a quick pick me up, peppermint and lemon are two great essential oils that will work just fine.
Health Benefits You Gain From Using Essential Oil
Essential oils are natural fragrances that can interact with our brain's limbic system.
There are some antimicrobial properties you stand to gain using this oil. They can help wade off unwanted germs on the surface of your car.
Using some of this oil can help reduce stress and increase alertness which is very useful while driving.
How Do You Clean Your Car With Essential Oils?
Apart from diffusing essential oil in your car, you can as well clean your car with it and you can have your car smelling nice.
Essential oils can be used good cleaner for various parts of your car. The parts of your cars such as the tires, the windows, as well as the interior parts can be cleaned using this effective oil. All you need do is to add essential oil into your cleaning substances.
Also, most cleaning products are made with unsafe substances. Hence, adding essential oil can help clean your car in a safer way.
How Do You Make Scented Car Spray?
You can make your scented car spray by mixing the desired blend of essential oil in a mister bottle. Then the mixture should be sprayed in your car as desired.
For a recipe in a 50ml spray bottle, use your preferred essential oil. For instance, doing a 50ml spray bottle, you can go for 10ml peppermint, 10ml rosemary, 10ml lemon, and 1 pinch of salt. Then this should be topped with pre-boiled cooled water.
Side note: Some essential oils are known to cause drowsiness so these types should clearly be avoided. Essential oils such as lavender, vetiver, and chamomile cause drowsiness. Hence, they should be avoided in your car.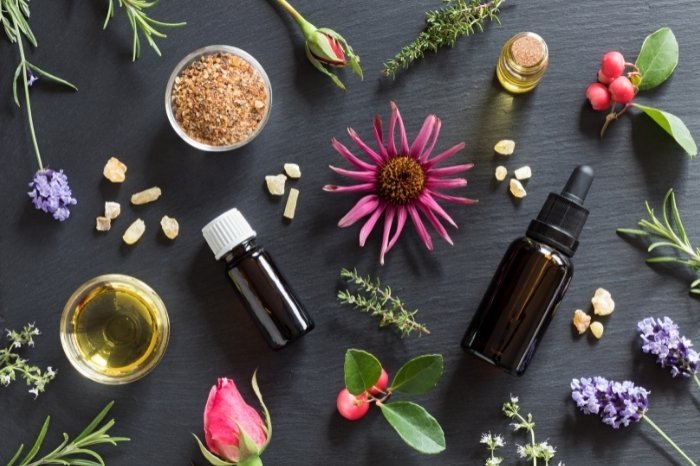 Additional Say – Essential Oils For Car
We can see how essential oils are perfect ingredients to add to your air diffuser and even clean your car. The different scents of essential oils can even be mixed just so you can find exactly what you desire.
However, some essential oils (like peppermint, rosemary, and eucalyptus) may not be safe for use around small children. So, ensure you choose the appropriate ones. You can however clean your car with these oils ahead of time before you load up your kids for a long journey. Just don't use them directly or immediately your kids are in the car.
Additionally, when using the essential oil, take note that a car is a small enclosed space compared to the living room you will be covering. Therefore, less amount of oil is usually required for your car compared to the large amount you will be using in your living room.