Last Updated on December 19, 2022
Elderflower has grown in popularity for both culinary and beauty uses. There are several great elderflower benefits for hair that will have your locks feeling smooth and healthy. Elderflower oil can be a wonderful product to introduce into your hair care regime.
Not only can elderflower be beneficial to your hair but also to your skin as well. It comes with many vital nutrients that benefit skin and hair health. In addition, people even use it in baking and making tea as well.
What Is Elderflower?
Elderflower is a flower that comes from the elder plant. It is the same plant that makes elderberries. While elderberries ripen in the fall, the flowers bloom beginning in late spring.
When the elder plant blooms, it produces large umbels of small white flowers. The flowers have five rounded-tipped petals and five stamens protruding. They produce a distinguished scent that can vary slightly by weather and location.
The elder shrub grows throughout Europe, North America, and other parts of the Northern Hemisphere. There are different varieties of the plant including the American black elder and blue elder.
When harvesting elderflowers, you should only take 20-30% of the flowers from one plant to avoid damaging it. When harvesting, the flowers should be fresh, fully open, and not have any brown on them.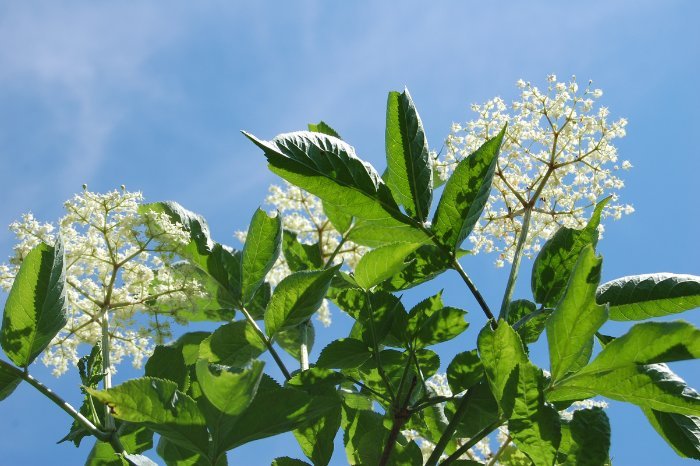 Elderflowers can be used fresh, dried, or made into an oil. For centuries, elderflower has been used for medicine and culinary purposes. While it is still used for that today, it is also used in skincare and hair care.
While elderflower is safe to consume, you should only do so in small amounts. It should be cooked first to avoid nausea, vomiting, and diarrhea. When using it on the skin, be sure to test it on a small area of your skin to make sure you do not have an allergic reaction to it.
Elderflower Benefits For Hair
Elderflower can be used on the scalp and hair to improve your hair health. Elderflower can be used in shampoo or conditioner or as an oil massaged into your scalp.
Treat Split Ends – Elderflower Benefits For Hair
Elderflowers can be used to treat split ends on your hair. You can use an elderflower shampoo or serum on your hair on a regular basis to improve hair health and treat split ends while also preventing future split ends.
Elderflowers are packed with important nutrients that help strengthen hair and eliminate split ends. Your hair will feel healthier and stronger in no time with the use of elderflower in your hair routine.
Improve Problematic Hairlines
Elderflower can help improve problematic hairlines, boosting your confidence. By massaging elderflower serum into your scalp and using elderflower shampoo and conditioner, you can improve your hair health and improve your hairline.
Encourage Hair Growth
Regular use of elderflower can encourage healthy hair growth. It is rich in vitamins and nutrients that can help encourage hair growth so you have longer, fuller hair.
Hydrate And Strengthen Your Hair – Elderflower Benefits For Hair
Elderflower is rich in vitamins A, B, C, and E, as well as many beneficial minerals. These nutrients can help hydrate and strengthen your hair for beautiful, healthy hair.
Massaging elderflower serum into your scalp boosts blood circulation and delivers important nutrients to your scalp and the follicles of your hair. This improves your scalp health while also strengthening and hydrating your hair. You will notice an improvement in your hair when regularly using elderflower serum and/or elderflower shampoo and conditioner.
Wild Bliss Organic Elderflower Herbal Tea – Caffeine Free Elder Flowers Tisane
Does Elderberry Help With Hair Growth?
Yes, just like elderflower, elderberry can also help with hair growth. The antioxidants in elderberries can help improve hair growth, giving you fuller, more luscious hair. You can use just elderberry products for hair growth or use them with a combination of elderflower products as well for maximum results.
How Do You Use Elderflower On Hair?
There are a few ways you can use elderflowers on your hair. You can use elderflower shampoo or conditioner or use an elderflower serum. You can use an ounce of elderflower oil with your favorite other hair oils such as rosemary, mint, lavender, lemongrass, and tea tree oils.
Elderflower serum can be massaged into the scalp for hair to receive its benefits. Add a few drops of the serum to your scalp and massage your entire scalp for a few minutes. Then, wash out the elderflower serum with shampoo and conditioner.
You can also buy shampoo and conditioner that has elderflower in it. Use it as you would normally regular shampoo and conditioner. Incorporating both elderflower serum and elderflower shampoo and conditioner can be beneficial for your hair health.
Take Out Time to Also Read:
Other Benefits Of Elderflower
In addition to hair care, elderflower can also be used for skin care. It can help improve and prevent acne breakouts, improve inflammation, reduce redness, clear pores, and improve irritated skin.
Elderflower also has many medicinal purposes. It can be used to treat colds, the flu, coughs, and sinus problems. In addition, it can help with swelling, constipation, and even diabetes.
Elderflower is also used in baking and drinks. Elderflower oil can be infused in cakes, other baked goods, and cocktails. It is also used to make perfumes as well.
How Do You Make Elderflower Toner?
To make elderflower toner, you can add two tablespoons of dried elderflower into a disposable tea bag. Steep it in 3/4 cup of water for a few minutes and then allow it to cool until it reaches room temperature. Next, add a few drops of your favorite essential oils and then use the toner on your skin.
How Do You Infuse Oil With Elderflower?
Place dried elderflower blossoms in a jar filled with oil, such as almond oil. Let the mixture sit for four weeks before straining the mixture and then using it.
Elderflower Benefits For Hair: Everything You Should Know
Elderflower comes with many benefits including benefits for your hair. It can improve dead ends, encourage growth, improve your hairline, and strengthen and hydrate your hair.
Do you have any questions regarding the elderflower benefits for hair? If so, please ask your questions regarding using elderflowers in the comments.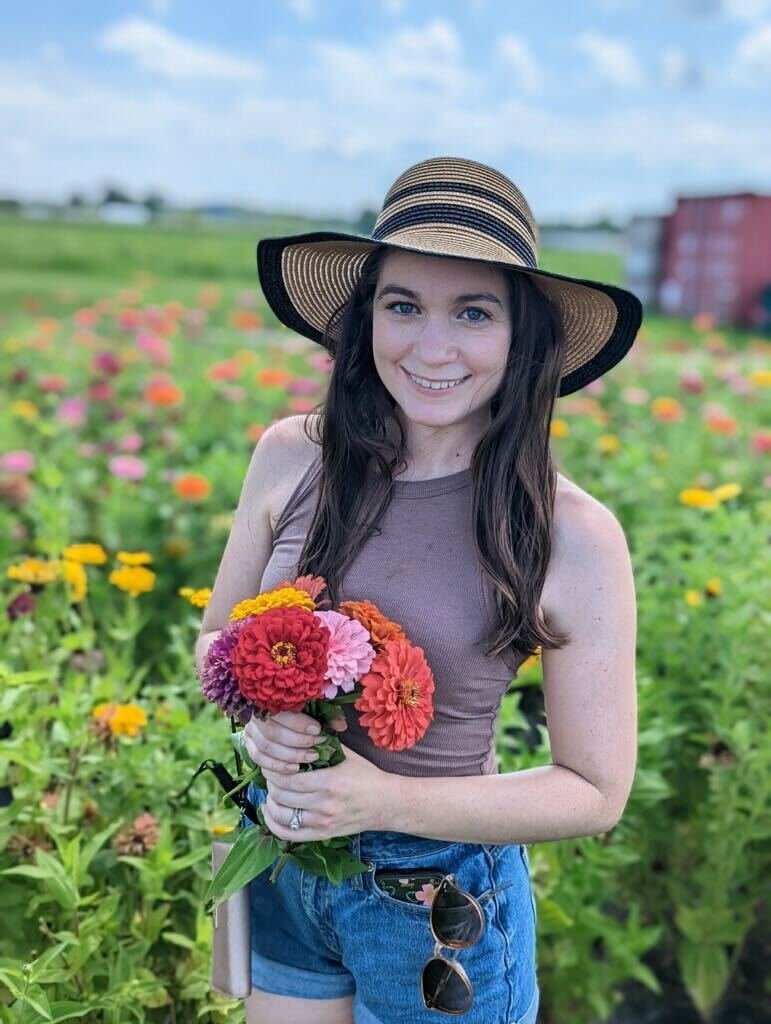 Anna is a passionate environmental activist and sustainability advocate. She is committed to living a green and sustainable lifestyle and is constantly working toward making her community and the world a better place. Anna is an expert in sustainable living practices, from composting to gardening to energy conservation. She is always researching the best ways to reduce her carbon footprint and is an advocate for green and renewable energy. Anna's goal is to spread awareness of sustainable practices and make them accessible to everyone. She loves sharing her knowledge and inspiring others to live a more eco–friendly lifestyle.