Last Updated on July 14, 2022 by Cristina
Is diatomaceous earth suitable for head lice? This is one question you will be asking if you are looking for natural methods to treat head lice. But while it is possible to find ways to solve skin irritations, those of the scalp could be pretty challenging. But there are simple remedies that can help treat it. Before I shed more light on that, let me first run through head lice's possible causes and how to prevent them.
Causes of Head Lice
The head louse causes the infection that is noticeable on the head of humans. The infestation is more familiar with kids, and the lice are transmitted from one infected person to another. When it gets deposited in the scalp, it feeds on the blood and could cause severe irritations around the affected area.
It is pretty much easy to get infected; all that is required is for the lice to crawl from an affected person to another. It travels to the head, where it feeds off nutrients in the scalp. They can live up to 30 days feeding on their host, and the female is larger than the male and lay eggs daily on the head of their host.
The continuous sucking of the host blood by the lice is what leads to the irritations felt by the host. You'll likely not feel the deposition on your body, but it is impossible not to feel the impact of their actions on your scalp. So the first thing you will notice is a change in coloration of the head's skin where affected.
Learn how to make a DIY Natural Detangler For Matted Hair
How to Prevent Head Lice?
It is simple to prevent head lice infestation when you employ simple rules around the house for pest and disease control. You can do a lot to stay safe from infections and diseases, and in the case of head lice, some effective preventive measures you can employ include.
Teach the Kids to Play Safe
Most of the infestations are usually promoted by kids when they go play with others in the neighborhood. And you can trust kids to get themselves in the mix of everything, including all the dirt and germs they associate with. You want to explain to them the importance of avoiding head-to-face contact with other kids in the playground.
Avoid Sharing Clothing
Another way you can stay safe from hair lice is to avoid sharing clothes with others. Females could lay their eggs in hats, coats, scarves, and other overalls you share with others.
Avoid Sharing Combs and Brushes
You could also get lice and other parasites into your scalp when you share grooming items with others. A better way will be to keep yours handy in your dresser and bag for when you go out. You can find portable options that can fit into the smallest purses.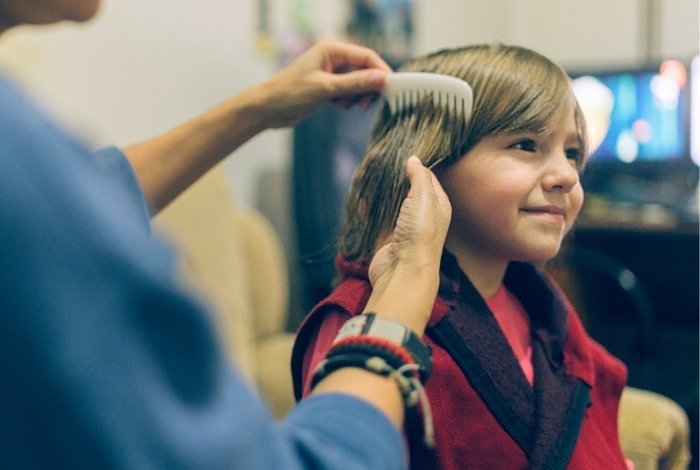 You can do many other things to avoid getting head lice, and if it happens that you are already faced with an infestation, you can learn below how diatomaceous earth could be useful for head lice.
Diatomaceous Earth for Head Lice
One of the natural and effective treatments you can try for head lice is to use food grade diatomaceous earth. It is used as part of a homemade insecticide spray, so it could also work with ticks and lice. The product is usually available in powder form can be harmful to the lungs when you breathe it in. So you want to be careful when making a homemade preparation.
You can mix in 1/4 cup of food-grade diatomaceous earth with another effective natural remedy for skin infection for head lice treatment, such as tea tree oil (10 drops) and 1 cup of witch hazel.
. This will be potent enough to pierce through the lice's exoskeleton, causing the parasites to dry out.
For an effective treatment, you should massage the preparation deep into the scalp and leave it overnight. You can use a shower cap or soft cloth to keep the medicine in. At the same time, you want to balance out by improving hydration to the scalp, which is the quickest way to bring back the moisture.
Lice Treatment Kit, Non-Toxic, Pesticide-Free
Final Note
You want to be extra careful with how you handle the use of personal items as a family. And the kids would have to be aware of the dangers of dirt and germs in the environment.
Still, you want to have ready-made solutions for when it does happen. And you can trust a simple preparation of diatomaceous earth and tea tree oil to be suitable for head lice. There are many other available treatments for skin-related conditions, and if you are faced with something serious, you want to consult with your doctor.