Last Updated on June 21, 2022 by Cinthia
Wondering the reasons why to use hypoallergenic toilet paper? Believe it or not, there are some people who are actually allergic to toilet paper. The reason is pretty simple: some toilet paper products incorporate some chemicals into their manufacturing which, in turn, may cause allergies.
That's why a lot of people these days opt to go for a hypoallergenic toilet paper so that they won't need to suffer from any allergic reactions. If you're like me (who is allergic to some toilet paper), you'll be able to appreciate this short review list of the best hypoallergenic toilet paper products you can buy.
But before we get to the reviews, let us first get to know how you can choose the best hypoallergenic toilet paper on the market. The whole point of doing this is to allow you to have grading criteria that you can follow. Take note that we'll be listing down 5 of the best ones in the market.
If you want to zero in on the ones that really suit your preferences, you need to choose just one or two. This buying guide will help you with that. Here are the factors that you need to take into consideration:
Ply
The first thing that you may want to consider is the ply of the toilet paper. When we're talking about ply, we're referring to the thickness of the toilet paper.
So if you get a 1-ply toilet paper, you'll only get toilet paper with one layer of paper. If you get a 2-ply toilet paper, you'll get a 2 layer toilet paper that has more thickness.
But why is this important? The reason is that the thickness will determine how strong it is. If you want a toilet paper that won't tear apart that easily, then it's best to get the 2-ply version. However, I'd say that the more economic option is the 1-ply type since it doesn't require that much toilet paper. Therefore, if you're pretty particular with eco-friendliness, then you'd probably want to get the 1-ply toilet paper.
Material Used
Next, you need to consider the material used. If you're looking for a hypoallergenic toilet paper roll, then you need to get one made of natural ingredients. Some of these include bamboo, recycled paper, aloe, or gentle cotton. You may want to avoid toilet paper with bleach, chlorine, fragrances, and even dye.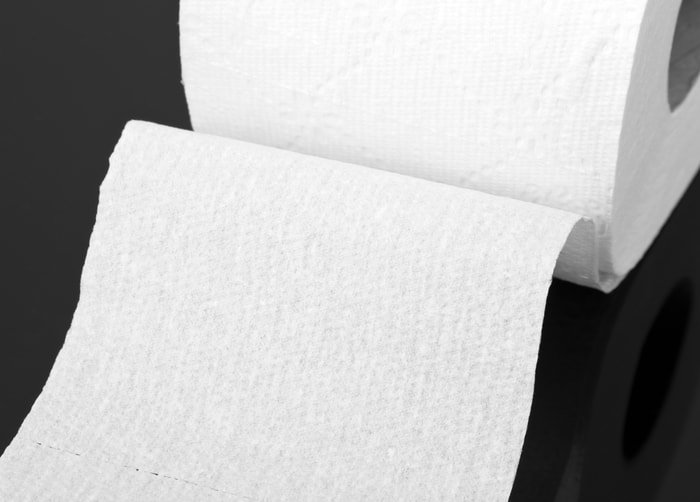 That said, if you see any of these ingredients in your toilet paper pack, don't buy it because it may cause you some bad allergies in the long run.
Softness
Another thing that you need to consider is the softness of the toilet paper. Honestly, there really is no way to tell the softness of a toilet paper roll by just reading the package because any brand can claim that their toilet paper is soft. You can try to press your finger against it to see, but this will just give you a general idea. As a rule of thumb, bamboo seems to be the softest toilet paper material that you can find, so you can use that as a guideline.
Rolls Per Pack
The last thing you want to consider is the number of rolls per pack. Obviously, the more rolls in a pack, the cheaper the toilet roll package is. Generally, there are 24 rolls in one pack, but there are toilet paper rolls that come in 48 rolls per pack. Therefore, the one you buy will really depend on how much toilet paper you use.
If you have a pretty big family and use a lot of toilet paper, you might as well buy the 48 rolls per pack rolls so you can save some money.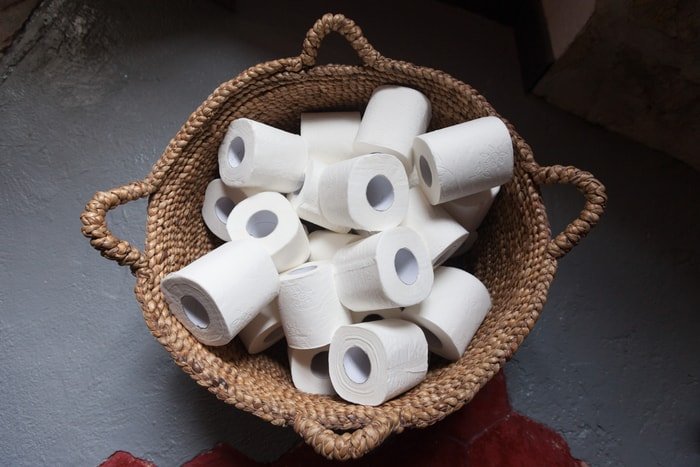 5 of the Best Hypoallergenic Toilet Papers
Now that we're done with our buying guide, let's move on to the actual reviews. Before we proceed, do keep in mind that the products I've included in this list were all based on hours of extensive research. This involved careful consideration of their features, their current prices, and a brief comparison of each product.
Without further ado, here are 5 hypoallergenic toilet papers which I believe are among the best in the market:
First on the list is the Seventh Generation Unbleached Tissue. This is a thick two-ply toilet roll that is perfect for outdoor camping as it works perfectly for sewer systems. Notice that there are some toilet papers that can't seem to go down the drain because it's too tough or thick. However, this one's perfect for weak toilet bowls that are usually used in RVs or campers.
Aside from that, you'll also like that this tissue roll comes in 48 double roll packs. If you want to save some money by buying in bulk, then this is the one that you'll want to buy. Lastly, it's not bleached, dyed, nor chemically infused. It's also made out of recycled paper which makes it really safe for use.
Needless to say, you won't get any allergic reactions when using this toilet roll.
Pros
Two-ply toilet roll
100 percent recycled paper material
No dye, no ink, no perfume, and no bleach
48 double rolls in one pack
Soft enough to be flushed by weak toilets
Cons
Not that soft on the skin
Rough surface
The Cottonelle Ultra Sensitive Toilet Paper is rather unique in the sense that it contains both aloe and vitamin E. This is not really something that you'd usually find in most toilet rolls. If you're looking for a rather healthy toilet paper, then this is the one you should buy. Aside from its healthy ingredients, it's also strong and much more absorbent compared to a lot of toilet papers.
To sum it all up, it is strong, absorbent, and healthy all at the same time, making it one of the best toilet rolls you can find in the market.
Pros
Thick and strong toilet paper
1 ply toilet paper
Infused with aloe and vitamin E
Does not contain any dye
Very soft texture
Cons
Slippery texture
The size of the toilet roll is rather small compared to other toilet rolls
Charmin is actually quite a well-known brand of toilet paper, and that's why we included it on this list. Just as the name implies, it is actually a very gentle toilet paper. If your skin is very sensitive and easily scratches against rough toilet paper textures, then this is perfect for you. This toilet paper is extremely soft; so soft that it won't irritate your skin no matter how hard you wipe with it.
It is definitely one of the most comfortable ones that you can ever find in the market.
Pros
Contains a total of 286 sheets for every roll
Extremely soft and gentle on the skin
Safe and dermatologist tested
Doesn't easily get clogged up in toilets
2-ply toilet paper
Cons
Small-sized toilet roll
Tears quite easily
There are two things that make this unique compared to other toilet rolls. First, it has large sheet sizes. A lot of bathroom tissues have small sizes which make them deplete really fast. If you want a longer-lasting toilet paper, then you'd probably want a roll with more sheets and big sized types. This one, in particular, will last you a pretty long time. The second aspect is that it is extremely biodegradable as it's made of 90% post-consumer recycled material.
Pros
Made of 90% post-consumer recycled material
Doesn't contain any chlorine for whitening
Extremely hypoallergenic
Very big sheet size
More sheets on the roll
Cons
Very rough texture
Not much thickness
This particular toilet paper is a premium-quality toilet paper that is more than 50% plant-based while the other half is a recyclable material. If you're looking for a very eco-friendly toilet paper, this is a pretty good choice.
Aside from its eco-friendly properties, it has a pretty big size of 821.3 square feet, a strong 2-ply layer, and a high number of sheets per roll (308 to be exact).
Pros
Big-sized sheets
Made of 50% plant-based material
308 sheets per roll
2-ply layer
30% thicker than most toilet papers
Cons
Powdery texture
Tends to have a strange smell
Conclusion
With this set of reviews, you'll now have a pretty narrowed down choice about which hypoallergenic toilet paper you should choose. Now, you may be wondering which one I think is the best out of the list. Well, since we're talking about hypoallergenic properties, I'd choose the healthiest one on this list. That said, I'd definitely choose the Cottonelle Ultra GentleCare Sensitive Toilet Paper.
I chose this out of the 5 picks by comparing all the features of each product. By using the buying guide to compare products, I was able to see that this product has the best materials for sensitive skin, namely aloe and Vitamin E.
FAQ's
Can you have an allergy to toilet paper?
While it may seem odd, it is possible to be allergic to toilet paper. The allergic reaction would be due to some of the ingredients used in making the ply. Toilet paper, which is usually obtained from a plant(wood) source, should ideally not be scented heavily. 
When you make use of heavily scented tissue paper, there is a high chance of vulvitis. A condition that causes itching, redness, and swelling around the anus. If you notice any such symptoms after switching to a new scented paper, you may want to switch them or look for alternatives.
What toilet paper is unbleached?
An unbleached toilet paper is one that does not contain any chemical ingredients in the whitening process. Most production companies make use of bleaching agents such as chlorine to whiten the papers in the factory. The downside to this is that it leaves behind an irritating sensation, which could put you at a severe health risk. This is mainly for females who use bleached toilet paper in their personal hygiene as the chlorine can cause toxins to build up in the body, causing serious complications in the future.
Does Charmin toilet paper have Formaldehyde?
Formaldehyde or chlorine is one ingredient applied in the manufacturing of toilet paper. This is used to bleach the paper into the bright white color you are familiar with. The end product is a clean paper filled with a lot of toxins. 
But some popular TPs such as Charmin make use of a chlorine-free treatment in their pulp productions. So, no! There is no formaldehyde in Charmin toilet paper. You will also find them to be free from dye, artificial scents and made from 100% virgin wood fibers that are safe for personal hygiene.
What brands of toilet paper are made in the USA?
You can find a long list of made in USA toilet papers. And you can also find popular overseas brands when you shop online or at the store. Suppose you've been wondering who is responsible for the many popular American brands of TPs. In that case, you should know that some of the large paper companies are heavily invested in the business. 
Companies like Kimberly-Clark and Georgia-Pacific are responsible for popular brands such as Angel Soft, Quilted Northern, Scott, and Cottonelle toilet tissues. Procter and Gamble are also invested in the tissue business, and you can find some popular options that are made by the American consumer goods giant.
What can I use instead of tissue paper?
The best alternative to tissue paper has to do the job effectively and also be safe to use. While most people would usually just jump in the shower and take their bath when they use the toilet and run out of paper, you could also try other means instead. This includes the use of napkins, soft cloth or paper towels. Whichever option you go for, you want it to be soft and without leaving any irritations on the skin.