Last Updated on May 30, 2022
You have probably heard about the wonders of baking soda as a chief ingredient in most dental products. While you are right about the effectiveness of baking powder in dental care, what most people don't know is that they can make their own toothpaste by making use of baking soda and other ingredients. 
The ingredients of this baking soda mouthwash recipe are readily available and can be purchased from your local organic shop without hassle and for a good price. You can also shop for these ingredients online and get them delivered to your doorstep if you don't know where to find them. 
Before I share with you my magic baking powder mouthwash recipe, I will be enlightening you more about baking powder and some of its numerous benefits. 
What is Baking Powder? 
Baking powder is a mixture of a base with a weak acid. The base is usually carbonate or bicarbonate and together with a buffer such as corn starch, prevents the acid from reacting negatively in the mix. Baking powder is added to cakes, bread, and other baked goods as a leavening agent that helps to increase the volume and reduce the texture of the finished product. 
Baking powder is sometimes confused with baking soda, but both terms actually mean different things. While they are both leavening agents used in baking, they each have their distinguishing properties when used around the home. Baking soda is a good cleaning agent which is why it is used in removing stains from clogged drains and carpets. When stored in powder form, baking soda can stay the same for a long period of time, making it a useful ingredient in every kitchen. You can include baking soda for recipes that contain acidic ingredients such as lemon juice, maple syrup, and molasses. But you want to take note of how much you add to the mix so as not to leave your food with a bitter taste. 
Benefits of Baking Powder 
Apart from being a great mouth wash, baking Powder is an important ingredient in most cakes and biscuits due to its numerous benefits which includes 
Baking powder is a useful home remedy to treat heartburn. This is what you often refer to as acid reflux; an aching, flaming sensation that is felt in the stomach and throat. Adding a teaspoon of baking soda to a glass of water and drinking it slowly can help neutralize the stomach acid. 

It is also a great odor control, making it a useful ingredient in home-made deodorants. By putting baking powder on the armpits, you can reduce the sweat produced in the region and by so doing eliminate the odor produced by the breakdown of bacteria. 

Baking soda helps to relieve sunburns and itchy skin from bee stings and bug bites. Adding a few cups of baking soda to your bathwater and washing over the affected area provides your skin with a soothing relief 

According to research, baking soda could have a great application in the area of chemotherapy. It has the ability to reduce the acid levels in tumor cells making it possible to inhibit or stop the growth of cancer. More research is needed to prove this as there isn't much human evidence to support this claim. 
Why you should add Baking Powder to your Mouthwash
The benefits of baking powder in dental hygiene are overwhelming, this is why many of the manufacturers of organic toothpaste and mouthwash make it an active ingredient in their product. If you are thinking of making your own home-made mouthwash and are unsure of why you should include baking soda, here are a few good reasons for you to
Helps to whiten the teeth
Baking powder is a natural tooth whitening agent. When you add it to your mouthwash, you can be certain of a clean white tooth and worry less about injuries to your gum and tongue. This is not usually the case when you use regular toothpaste with harsh whitening agents that can leave you with sores and bruises in the mouth. 
In addition to brushing your teeth at least twice a day with a toothpaste and toothbrush, you also need to rinse your mouth with a mouthwash. This helps to guarantee complete oral hygiene as the liquid can get to all the hidden parts of your teeth, tongue, and gum that your brush didn't get to. Using baking powder as a mouthwash is a cheap way to avoid plaques and dirt from building up in the mouth.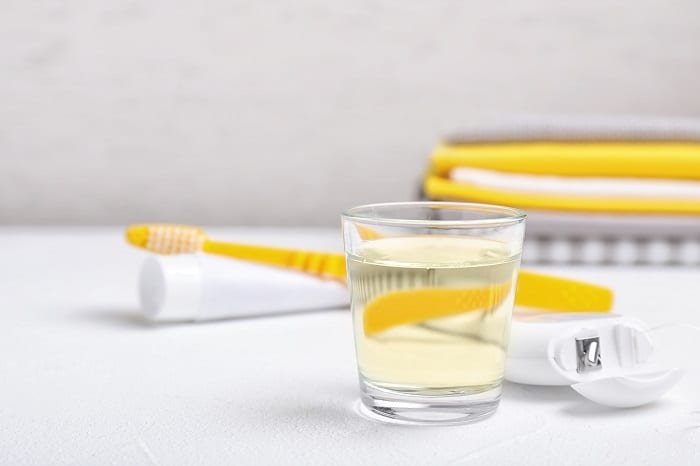 Leaves you with a Fresh breath
The antimicrobial and antibacterial properties of baking powder make it a good breath freshener. Rinsing your mouth occasionally with baking soda solution is a great way to improve your smile and worry less about mouth odor. 
Although they are not contagious, canker sores can leave you with a bit of discomfort when they appear inside the mouth. Using baking soda mouthwash can help to soothe the pain and rid your mouth of the small, throbbing ulcers that are caused by acidic foods and injuries from brushing hard on the teeth.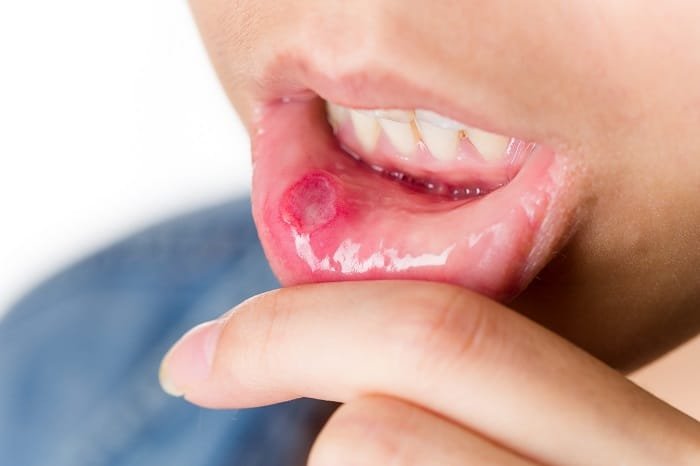 Magic Baking Powder Mouthwash Recipes 
To make your own trusted mouthwash with the help of baking powder, you simply need to get. 
Ingredients 
Directions and Tricks on How to Make the Best Home-made Mouthwash 
Once you have the ingredients mentioned above:
Add 1 or 2 cups of warm water to the jar or container. This is so that the mixture can combine properly. A mason jar is a good choice but any closed container can also be used. 

You can add 1 or 2 teaspoons of baking soda to the water in the jar. Depending on the number of cups of water in the jar. You should add more baking soda if you want a mouthwash that can fight against bad breath with more potency. 

You can now add the essential oil which also helps to prevent bad breath. You can make use of peppermint oil or spearmint oil. You can use any good essential oil with a sweet smell to provide you with a refreshing feel after each mouthwash. 
You can make your own magic baking powder mouthwash using the ingredient and following the directions mentioned above.  Using baking powder or soda as the active ingredient does not affect the potency of your mouthwash, what matters is that you use the mouthwash daily for the best results. 
If you have any further questions or would like to make a contribution on how best to make use of baking powder in mouthwash recipes, kindly let us know in the comment section. We encourage you to share this article with others if you find this information helpful. 
amzn_assoc_placement = "adunit0";
amzn_assoc_tracking_id = "greenlivingz-20";
amzn_assoc_ad_mode = "manual";
amzn_assoc_ad_type = "smart";
amzn_assoc_marketplace = "amazon";
amzn_assoc_region = "US";
amzn_assoc_linkid = "05e562c232008235b5bb825765338fa1";
amzn_assoc_asins = "B001E0YEAC,B004AOLA3I,B07XXSV7XP,B01LWSJNOA";
amzn_assoc_search_bar = "true";
amzn_assoc_title = "My Amazon Picks";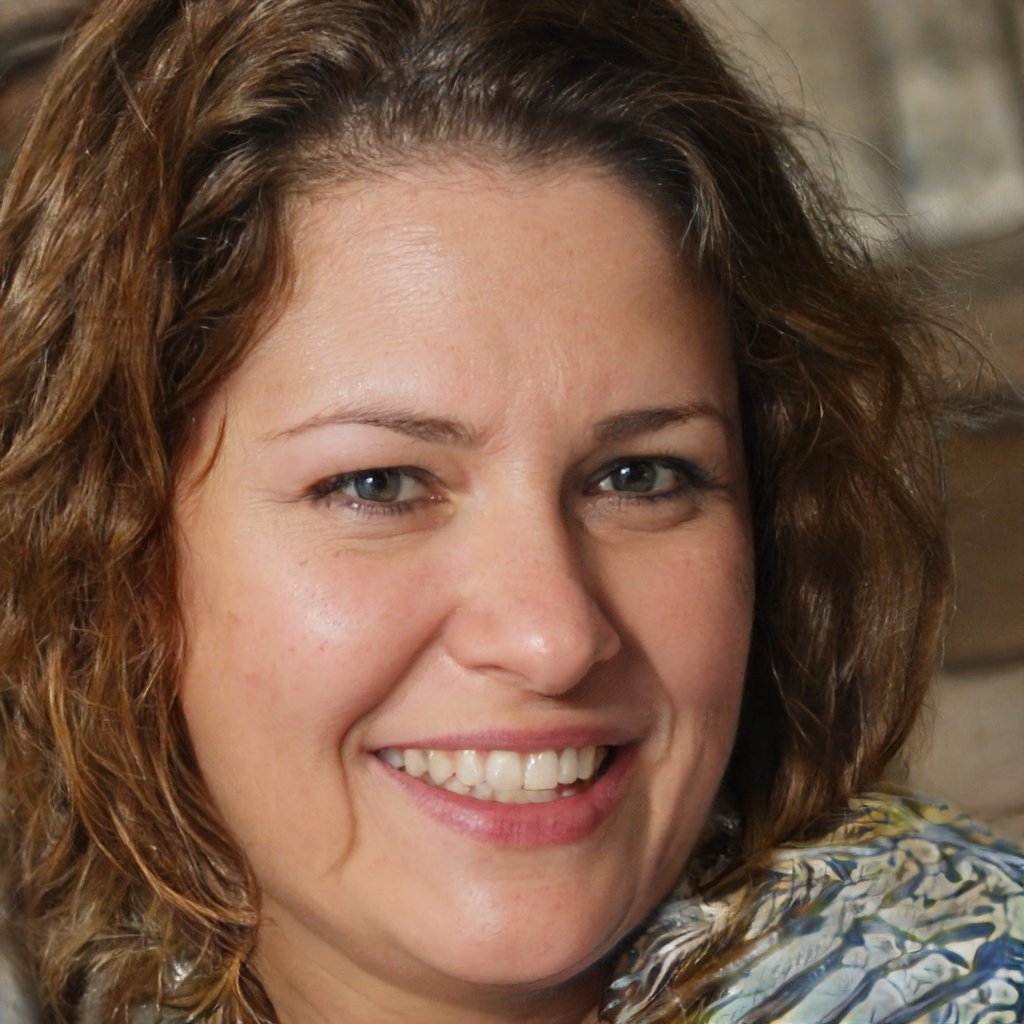 Lacey is an environmental enthusiast and passionate advocate for living green and sustainable. She believes that everyone can make a difference, no matter how small. Lacey is dedicated to reducing her own carbon footprint and educating others on the importance of living greener. She is an advocate for green energy and sustainable practices. She is an active member of her local community, volunteering with local conservation efforts, and taking part in sustainability initiatives. Lacey is a firm believer that the only way to ensure a sustainable future is to work together and make small, but important changes.